If you're spending your holidays in London and are looking for a place to go and see live music – be it rock, pop, indie, jazz, metal or classical – then you are very much spoilt for choice. There are hundreds of venues in the city and you will invariably stumble across one even if you're not actively looking for somewhere to get your groove on.
Many of London's venues have had to close down recently. Both the Astoria and Astoria II have closed their doors for the final time because of nearby developments. Others have fallen into states of disrepair, and some have simply suffered downturns in fortune or upturns in rent. The number of 'sponsored' venues has skyrocketed- you can no longer visit the Garage in Islington. It's now the Relentless Garage and the famous Hammersmith Apollo is now the HMV Apollo. Nonetheless, the closure of these venues would be a tragedy for live music and if sponsorship was the alternative, then bring it on.
There are independent alternatives still going strong. From the outside they may appear to be run down ramshackle pubs or maybe just a door seemingly leading to nowhere in particular. During my 10 years living in London – over half of them playing in small venues – I came to know many of the hidden gems.

One of the best places to start is 93 Feet East (E1) in the city's fashionable Brick Lane. Every visit to this now legendary venue guarantees something different. Given its location, you would expect it to be full of trendy young things but there is always a wide ranging audience and diverse musical styles on offer. There are regular DJ nights and live music 3-4 times a week so you can check out the latest up-and-coming bands or if you're not in a musical frame of mind, just chill out in the bar areas, which are decorated in a very kitsch manner.
If you're north of the river and itching to see some unsigned band action then you could do a lot worse than the Bull and Gate in Kentish Town, NW5. Many bands playing here aim to end up playing places like the HMV Forum, less than 2 minutes up the road, but the Bull and Gate has been a great starting block for many bands with wall to wall A&R reps and influential radio types in attendance. From the outside, you would be forgiven for thinking that this place is very 'locals only' but go through the side door into the performance room and you enter a different world completely.
South of the river are you? In that case, you might want to check out the Half Moon in Putney (SW15). Tucked away outside of the main drag of the area, the Half Moon isn't exactly a small venue per se, but it is certainly one of the busiest, with live bands on every night of the week. The range of music at the venue is very eclectic – a T-Rex tribute band one night and a triple bill of young punk wannabes the next. The venue comfortably holds 200 people and is generally well populated every night of the week.
The folk scene is also pretty big in London, with many venues offering acoustic and open mic nights. One not to be missed is at the Slaughtered Lamb in Clerkenwell (EC1V). If you're not put off by the name, then inside you'll find a beautifully decked out pub which looks more like a gastropub than a music venue but the excellent stage area has amazing acoustics and you'll be entertained every night of the week – just don't expect any of the instruments to be plugged in and you won't be disappointed.
You might also want to check out Buffalo Bar, underneath the Famous Cock pub just outside Highbury and Islington station, the Betsey Trotwood in Clerkenwell for a perfectly quirky atmosphere or if you're 'darn sarf' then The Windmill in Brixton is perfect for your scuzzy pub-rock needs. No matter where you are in London, from Barnet in the North to Balham in the South, Hammersmith in the West to Hackney in the East, you will be surprised at the wide range of venues and the even wider range of people playing in them. Keep your eyes peeled and you may be surprised at finding the next big thing on your doorstep.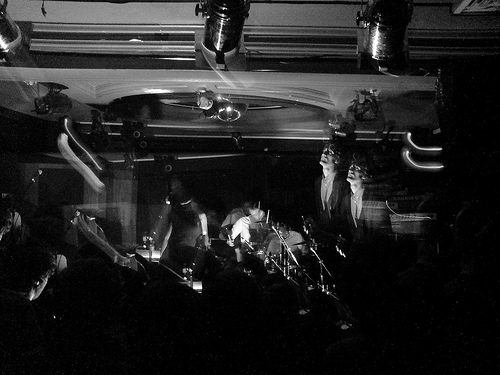 About the Author: Ben Gallivan
Ben is a Cardiff-based blogger and musician. He runs the blog Benlikesmusic.com where you can read his thoughts on everything music related.