Perth's reputation for being a great place to enjoy fine cuisine, go sightseeing and visit a club is well-deserved. With over 300 restaurants that offer a wide range of culinary masterpieces, you will be able to taste the difference in this city. For sightseeing, the King's Park and the Underwater World are two of the most popular must-see landmarks. Get wild with plenty of outback to discover in Perth itself and its surroundings, enjoy the beach and hit the bars to meet great people, try world class wines and have fun!
Perth has an established tradition to set aside Sunday afternoons to go to a club and enjoy a few drinks with friends. This tradition known as Sunday Session is the perfect excuse to enjoy the last hours of the weekend before starting the working routine on Monday. However, with the number of places to groove and experience Perth's musical scene, a music enthusiast won't lack for entertainment in this city any day of the week.
For those who are up for a night out in the city, there are plenty of friendly bars open all day long happy to welcome visitors. If you are in Perth for a dose of good music, here are some of the best Perth bars that you should visit:
1. On The Terrace. Open for breakfast, lunch and dinner, the tapas and mains in this café and bar in Bay View Terrace, Claremont is worth stopping by. O the Terrace offers Italian cuisine with a dash of Mediterranean influence. Soulful jazz music by professional artists in the city flows through the room on Fridays and Saturdays, Tuesday evenings are set for up and coming local bands while Thursday evenings are reserved for music from Perth's best DJs.
2. The Ellington. Jazz music lovers who drop by Perth should not miss this stylish place that has the air of New York's jazz clubs. Featuring the best talents in Australia's jazz music scene, stopping by the Ellington would make a music lover's trip to Perth worthwhile. Dubbed to be the best place to catch live music in the city, experiencing Perth's music won't be complete without stopping for some drinks and a few bites at The Ellington.
3. Eve. One of the hottest places to drop by to make new acquaintances, Eve is the culmination of Perth's nightlife scene. Whether you are interested in showing off your moves in the dance floor to the tune of the latest track spins by Perth's talented DJs or simply enjoying a drink while socializing, this is the perfect place to groove.
4. Lobby Lounge. Located just inside Crown Metropol Perth's foyer, Lobby Lounge is a great place to catch a few pre-show drinks. The ideal place for a lunch meeting that doubles as the best evening destination to catch up with friends over a few cocktails, the Lobby Lounge is truly a gem. With the daily live entertainment, you can simply enjoy the elegant atmosphere in a laidback fashion while sipping your wine.
5. Groove Bar & Lounge. Crown Metropol Perth's live entertainment lounge is the best place to grind in the dance floor and dance the night away. With free live entertainment from Wednesdays to Sundays, you will surely feel the action with your hair down, your hands up and the groovy music in the background.
6. Tiger Lil's. Fusing pub culture with Asian cuisine results to a unique dining experience making Tiger Lil's a funky place to enjoy a couple of cocktails and international beers. With its Asian approach to dining, most meals are communal making it a cozy place to eat and drink. The tech-house sounds give guests a funky yet relaxed feeling and the eclectic sets are sure to help you get over a toxic week.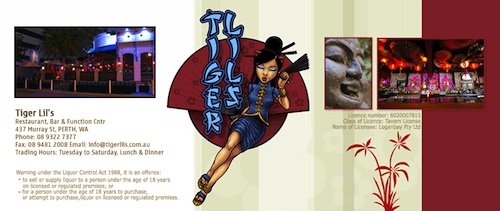 7. Rustico Tapas & Bar. If you can't get enough of the rustic Spanish charm and you love freshly cook tapas, this the perfect place to experience something new. With over 50 wines from Europe and Australia, you can get a fine list to choose from including the famous Sangria. Spending your Sundays Session in this bar would mean having a great time while listening to live acoustic music.
Photo Credit: twicepix