Round up the troops, it's time to head out for a group vacation. And not just any vacation, either – a wild, uncensored, anything goes party vacation to remember.
Organizing something like this used to be a real pain, but today's online travel tools have really made the whole thing a cinch. Some of the world's top destinations even promote special deals on hotel room or villa rentals for groups, making coordination efforts that much easier. All that remains is choosing where to go.
Carnival
Let's start with the biggest party on earth. This festive season is mainly tied to countries with a significant Catholic influence, and takes place just before the traditionally strict period known as Lent (usually during February).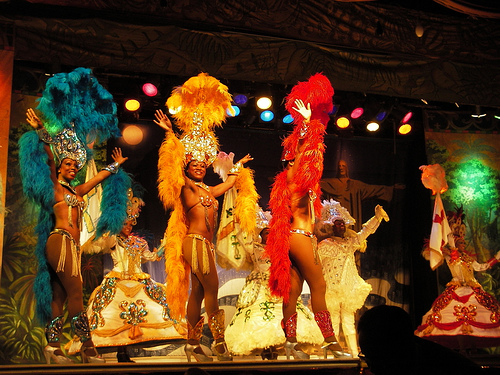 It is basically one big street party, with costumed public parades and celebrations that extend across several non-stop days and nights. The prevailing spirit is that during Carnival, anything goes.
Where is the best Carnival? This debate can incite riots, but Brazil, Venice, Trinidad, and Barranquilla, Colombia are generally considered among the best.
Ibiza
If you want to get really wild, you need a place that will stay wild with you 24 hours a day. This Balearic island off the coast of Spain has a free-spirited legacy dating back to the 1960s, when European hippies began turning up on its shore in droves.
Today, Ibiza's nightclubs are second to none, a true adult Disneyland for the late night set. As if the party scene weren't enough, Ibiza also happens to be an incredibly beautiful island, full of gorgeous beaches and gentle Mediterranean breezes. It's best visited during summer, when the world's top bands and DJs come to drive the party bus to oblivion.
Goa
This stretch of pearly white sand beach in southern India is another place to go and lose your mind in party revelry. Like Ibiza, it is a former hippie enclave that has become a world party capital for those who enjoy dancing the night away. It is famous for a particular brand of hypnotic tribal electronic music known as Goa Trance.
After partying all night, recharge your batteries during the day by napping on the beach or dipping into the local Portuguese-inspired cuisine.
Las Vegas
The original Sin City just had to be on this list. Whatever brand of over the top indulgence your group is seeking, chances are Las Vegas specializes in it. To wit: they've built a whole marketing campaign around the idea that you can go out to this fantasy desert town, engage in wild, ill-advised behavior, then return home and forget everything as if it never happened. Oh and by the way, millions of others are there to do the same thing with you. Sound good?
St. Tropez
Finally, those looking for a touch of refinement in their debauchery should head straight for this small town on the French Riviera. A true jet set location, St. Tropez is famous for the extreme wealth on display when summertime guests include top models, entertainers, and European royalty. Days are spent being seen on the topless beaches or sipping champagne aboard some fabulous yacht, while the nights are spent with more champagne in the town's painfully stylish nightclubs.