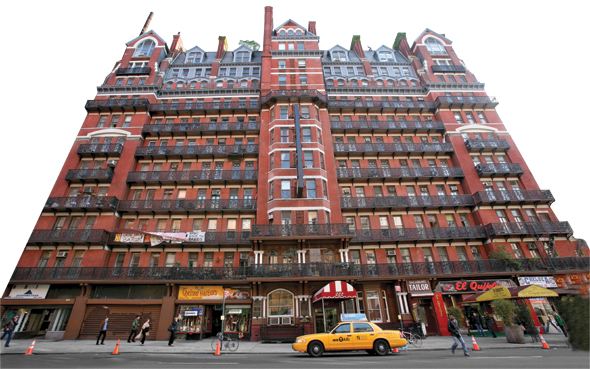 For the majority of holidaymakers, having a quiet and relaxing place to stay is top priority. However, certain travellers require a bit more excitement and rhythm with their choice of accommodation.
Thankfully, numerous musicians have made their mark on hotels around the world. Whether it be trashing the room or throwing a television out of the window, various destinations have received huge amounts of publicity and attention.
If you're on a budget, searching the cheapest rates for hotels doesn't require the same rash and reckless attitude. But, you may be interested in visiting the following establishments that have cemented their place in rock n roll history.
Heartbreak Hotel, Memphis
An absolute essential for any Elvis fan, the Heartbreak Hotel is located across the street from Graceland. The interior decor reflects the King's own unique flair, with eye-popping colours and faux animal prints.
If you've got the money and want the ultimate rock n roll experience, book one of the four Elvis-themed rooms, which include the Graceland Suite – an imitation of his own home in diminutive form.
Hard Day's Night Hotel, Liverpool
As the name suggests, this particular establishment is perfect for any Beatles admirer. Located adjacent from the renowned Cavern Club, where the Fab Four made their name, several famous landmarks are in close proximity.
The Lennon Suite features a white piano as in the Imagine video, while Blake's Restaurant is named after pop artist Sir Peter Blake, who designed the artwork for the Sgt Peppers album cover.
Backstage Hotel, Amsterdam
Designed specifically for touring bands, the Backstage Hotel is decorated with various musical instruments and even features flight case furniture.
If you've had an especially big night out, you'll be pleased to hear about long breakfast hours and a free laundry service.
The Chelsea Hotel, New York
With iconic musicians including Bob Dylan, Jimi Hendrix, Janis Joplin and Leonard Cohen all checking into the Chelsea Hotel during their heyday, any rock n roll aficionado is in for a treat. What's more, this particular lodging is where Sex Pistols bass player Sid Vicious reportedly stabbed and killed his girlfriend Nancy Spungen in 1978.
The Chelsea Hotel still hosts photo shoots against a backdrop of stunning architecture, furniture and an impressive spiral staircase.