Shake off those winter doldrums, fellow Musos! We're back with Travel As I See It, our painfully awesome series of interviews with traveling musicians, musicians who travel, and the like. Today we're talking to Scott Evans, who goes by Finch, and plays in a band, and writes on his travel blog, and generally just has us confused by all the awesome stuff he's doing (and the multiple names.) You confused too? Great! Read on to get it straight and check out the story behind this musica nomad.
Hey Scott! Thanks for joining us. For those who don't know about you, can you introduce yourself?
My name is Scott but in the music industry I go by the name of Finch (it's a long story). I am a mad sportsman, musician, traveller and I was born and raised in rural Shropshire in the west midlands but I now live in London along with focusing on my band and travel blog. So far I have been all around the UK touring with my band Hill Valley High as well as headlining our own tour across Brazil. We have recently released our new mini album self-titled Hill Valley High and it is available to buy from our big cartel store and on the Atticus Clothing store.
Would you say that travelling has an influence on your music and/or lyrics?
Definitely! Travelling opens up your eyes to new adventures, experiences and stories to tell. What better way to tell a tale or an experience than writing it in song form over a catchy melody for all to hear. Our life experiences and time on the road gigging here, there and everywhere are represented throughout our songs and I think show our fans who we actually are.
How has music enabled you to travel the world? Financially and spiritually?
Well, wherever you find a man and a guitar, you find somebody listening or joining in. Music is a great way to communicate and it really brings people together. I remember our tour to Brazil, one of your shows got cancelled last minute and fans had travelled hours to be there, so we went to the nearest restaurant where fortunately enough they had a live acoustic band. After they left the stage we asked the manager if we could perform a few songs for the people in the restaurant and the fans that had come all this way. Although they spoke little English in this place, they were with us in song and it was one of my favourite shows of the tour.
At the moment we back ourselves financially, so everything we get and do for the band we fund ourselves. It is not always the best but by saving along with dedicating time and money has led us to enjoy the experience we have had so far and I wouldn't change it for anything.
Describe what the realities of travel are like for a working musician like yourself?
Public transport, public transport, public transport! I spend most of my time on a coach, bus or train along with my guitar and backpack. Most the time when travelling I am on my own due to living in a different part of the country to the rest of the band but when we travel together the travelling is sometimes the best part (well apart from the actual show) as you get to chill out for a couple of hours causing mischief with the boys.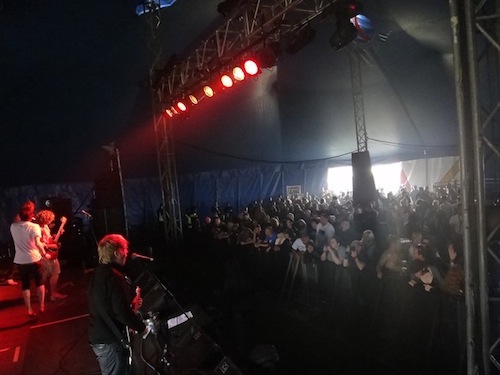 What's one thing can't you travel without?
There a number of things I don't think I could travel without, including my MacBook which has played numerous hours of movies for me to keep me entertained, my iPhone for a chance to sit back and listen to some great tunes and of course a malteaser easter bunny, or malteasers when the bunnies are not available it is my favourite chocolate in the world!
What's on your playlist for travelling?
My playlist is a rare one, consisting of all different genres and artists. It all depends on the mood I am in along with how I am feeling. I can be listening to hardcore metal one minute then a cheesy 80s classic the next. A few artists you can find on my playlist would be: The Cribs, Foals, Biffy Clyro, Bring Me the Horizon, Rick Astley, Limp Bizkit, Foster the People, Friendly Fires the list could go on.
Can you name your best and worst moments when travelling the world?
My best travelling moment: When travelling to Brazil one band member who organised the flights got my seat muddled up, this led me to sit next to a random guy called John from Holland. Due to is being a long haul flight it was free alcohol and free food, so John and I ate like kings for 12 hours and enjoyed getting fairly merry thousands of feet in the air.
Worst travelling moment: The worst would have to after playing Sonisphere Festival in London then have to travel all the way up to Glasgow the same day to prepare for our show at T in the Park. After a hard session the night before, playing a show then heading far north in a 5 seater car with all our gear, tents, along with 5 people in the car for something like 10 hours, was not the most pleasant experience!
What's your all-time favourite place that you've travelled to as a musician and why?
I have already mentioned it before but our two week headline tour of Brazil in 2009 has to be my favourite. It was an incredible experience and two weeks I shall never forget. We went through some highs and some lows but everyday led to a new adventure, a new story to tell along with a lot of laughs. Now that we are a little bit older and a little bit wiser, I would love to go back and experience it all again.
What's your next gig or travel destination?
My next travel destination with the band is here in the UK where we will be travelling north to the midlands to play Download Festival on the Saturday of the event. My next personal travel experience is to Barcelona where I will be experiencing the heritage and culture with 7 of my close friends from back in Shropshire.