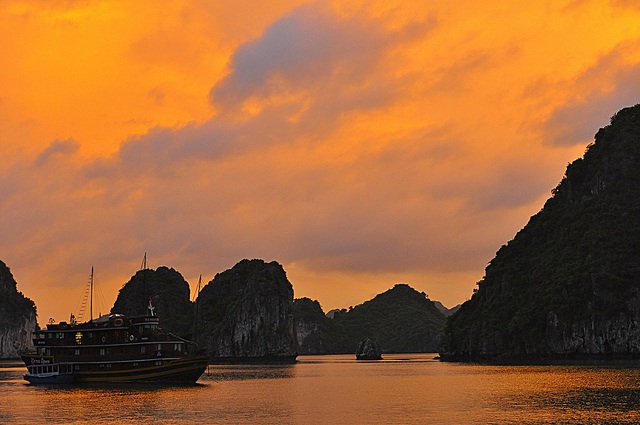 Jenny O'Connor returns to give us another dose of her rocking playlists after last months exploration of Latin America. This month we head to Southeast Asia and stuff our ears with tunes picked out by her.
Music plays a vital role in the representation of a country's national heritage, so what better way to become acquainted with a place than to listen to the music that is appreciated there? If you plan on travelling through South-East Asia anytime soon then here are my suggestions for five prolific artists that will help you in your understanding and appreciation of each country. Each of these artists has helped to shape the history of their country in one way or another; whether that's socially, politically or simply just emotionally, therefore by familiarising yourself with the following artists you will in turn be familiarising yourself with a whole nation of people.
Essential Artists for a Southeast Asian Road Trip: Koes Bersaudara, Indonesia
The band known as Koes Bersaudara was born in 1960 in Jakarta during a time when rock 'n' roll was greatly frowned upon. The initial band was formed of brothers Koesdjono, Koestono, Koesnomo, Koesyono, and Koesroyo (you can see where the band name comes from now!) However, one of the brothers, Koesdjono quit the band after the release of their first album which still hadn't yet reached the kind of success they would go on to enjoy. By 1965, The Beatles had begun to reach the ears of people on the other-side of the world and Koes Bersaudara, admiring the British pop act started covering their songs. This didn't wash well with the Indonesian President who saw rock 'n' roll as an unwelcome invasion from the west on his country. Although Koes Bersaudara were extremely popular publically, the government's official dislike of them caused the band to be refused radio air-time as well as bad press in the Indonesian Communist Party's newspaper, Harian Rakyat. The newspaper condemned the band after they played a gig at Jakarta Airport, claiming that their presence at the airport was detrimental to the country's reputation. This animosity made it difficult for Koes Bersaudara to land gigs.
In June 1965, the band managed to get a gig at a house party. Unfortunately, after playing a cover of 'I Saw Her Standing There', an angry anti-Beatles group started to fire stones at the house, demanding that the brothers apologise for their choice in music. The band left the party and returned home wanting to avoid any confrontation. However, the next day they were later summoned to the Chief Prosecutors Office and sentenced to jail without even being given a fair trial or allowed legal representation. They served three months in jail before being released. The timing of their release could not have been more appropriate as the following day six army generals were murdered under the rule of president Soekarno. The tragedy led to the head of the Vietnamese army, General Soeharto being declared president in a bid to restore order. Under Soeharto's presidency rock 'n roll finally received approval and Koes Bersaudara released their first record in months. The album, 'To The So Called The Guilties' was released in 1967 and contained numerous songs depicting the band's time in jail and expressing their feelings towards Soekarno's regime.  In 1969, Koesnomo left the band causing the remaining brothers to change the band's name to Koes Plus. They enjoyed great fame in Indonesia during the 1970's until most of the band retired from the music industry; all except Koesyono, who performed under the name Koes Plus well into the 2000's.
Essential Artists for a Southeast Asian Road Trip: Chong Kee Yong, Malaysia
One of Malaysia's most celebrated contemporary composers, Chong Kee Yong has won several awards and accolades for his work so far. Born in the small farming town of Kluang in the Southern Malaysian state of Johor, Chong grew up surrounded by the sights and sounds of nature – an element that is very evident in his compositions. He later moved to the much different, capital city Kuala Lumpur to study at the Malaysian Institute of Arts. After some time here, he went on to study in China at the Xian University and later at the Royal Conservatory of Music in Brussels where he graduated with highest honours. During his time in Brussels, he took numerous post-graduate classes with many an acclaimed composer including Brian Ferneyhough, Salvatore Sciarrino and Henri Pousseur. Chong's extensive international education along with his Chinese and Malay cultural heritage has allowed him to create multifaceted pieces of music that combine traditional influences with contemporary innovation. He uses an array of traditional instruments and cleverly mixes them with modern synthetic sounds, taking influences from such genres as Chinese opera, Indonesian gamelan music and Japanese kabuki to name but a few and dragging them into the modern day, metamorphosing them and giving them new meaning. Chong solicits a spectacular list of musical ensembles, orchestras and artists to perform his pieces, some of these include the Amsterdam Sinfonietta and Nieuw Ensemble, Ensemble Avantgarde and KNM Berlin, Hong Kong New Music Ensemble, Israel Contemporary Players, The Spanish National Orchestra and the Melbourne Symphony Orchestra.
Chong's unique talent and success has been marked by several prestigious awards, just a few from the long list are: the Grand Prix at the Seoul International Competition for Composers, the Malaysian Philharmonic Orchestra International Composers' Award, 2nd prize at the Global Music – Contemporary Expression Awards in Germany and The Outstanding Young Malaysian Award. His unique style of music is performed all over the world at some of the best international venues and music festivals. Chong regularly receives grants and commissions by top international music organisations to develop and expand his work. He is also being constantly invited to residencies and scholarships abroad; these have included positions as composer-in-residence at the Centre Henri Pousseur in Liège, Belgium and artist-in-residence at SWR Experimental Studio in Freiburg, Germany. Chong has not been selfish with his skills either, he gives frequent master classes all over the world, particularly across South-East Asia.
Essential Artists for a Southeast Asian Road Trip: Korphai Ensemble, Thailand
If on your road trip through Thailand you are looking for a genuine sampling of how traditional Thai music asserts itself in the modern day then look no further than Korphai Ensemble. The name means 'bunch of bamboo' and they are a group of some eleven musicians who have been playing traditional Thai percussion music since the 1980's. Their music incorporates traditional Thai music, or piphat as it is known in Thailand, with contemporary Thai music. The group was set up by Anant Narkkong, who is also their current musical director as well as professor of ethnomusicology and composition at the Slipakorn University, Thailand and host of a music show at Thailand National Radio Broadcasting. Being popular in Thailand for representing traditional culture in a contemporary way, the group's music has been used in films, documentaries and theatre performances. These include the Thai films, 'The Legend of Suriyothai' (2001) and 'The Overture' (2004). The later went on to win a Star Entertainment Award and a Bangkok Critics Assembly Award for best music in a film. Other accolades include a performance at the 55th anniversary of Thai-Cambodian diplomatic relations, winning the ensemble praise from the Cambodian Royal Family. The group has performed all over the world, in venues in L.A., Chicago, San Francisco, Amsterdam, Berlin, Austria, Scotland, France and Paris as well as numerous hot-spots in South East Asia. They have won four well-earned awards so far including The National Music Contest and three awards for the score for the film 'Overture', including a prestigious Hamburg Award.
So what exactly is piphat I hear you ask? Piphat is the name given to any ensemble of classical Thai music that uses percussion and wind instruments to create their sound. The music played by a piphat is sacred and held in high regard, with these groups often being solicited to play at Buddhist ceremonial occasions. They are also used at traditional Thai dance and theatre performances; the famous Shadow Puppet Theatre is a good example of this. Common instruments used in a piphat ensemble include oboes, xylophones, gong circles, flutes and percussion instruments. The number of instruments in a piphat can be anything from 6 in a piphat khrueang ha, or 8 in a piphat khrueang khu to 10 in a piphat khrueang yai. Different types of piphat groups use different combinations of instruments and are used for a range of different functions from funerals to Thai opera.
Essential Artists for a Southeast Asian Road Trip: Sinn Sisamouth, Cambodia
Referred to as the 'King of Khmer music', Sinn Sisamouth was notoriously popular in Cambodia between the 50's and 70's. The singer-songwriter was part of an important musical movement in the Cambodian capital, Phnom Penh at the time.  There was an innovative group of singers around during this period who created exciting new sounds by blending traditional Khmer music with the more contemporary and rebellious sounds of rock 'n' roll and  r 'n' b. Sisamouth's music was versatile, including romantic, crooner numbers, heavier rock numbers and Latin-jazz numbers. The song responsible for solidifying Sisamouth's fame in Cambodia was a number called 'Violon Sneha', a melancholic tune reminiscent of Khmer traditional music. The song has been re-released by a number of prominent modern Cambodian artists over the last few years, so listen out for these re-mixes playing on a radio somewhere during your South East Asia travels. Another medium through which you might be exposed to Sisamouth during your tour of Cambodia is through film. The popular artist recorded the songs on the soundtracks of many a popular film at the time, some of these include 'Orn Euy Srey Orn', 'Tep Sodachan' and 'Thavory Meas Bong'. Not only did Sisamouth write hundreds of original songs, with some people claiming he wrote a song a day for the whole period of time that he was famous, he also covered popular western songs in the Khmer language, making them accessible for Cambodian people. Some of these translated hits included 'The House of The Rising Sun', 'Black Magic Woman', 'Sugar Sugar' and 'I'm Still Waiting for You'.
If you are looking to get your hands on some of Sinn Sisamouth's stuff for your road-trip then the record A Collection of Sentimental Songs should last you for at least half your trip featuring 500 of his unique recordings. Unfortunately, the prolific singer's life did not come to a happy end. During the Khmer Rouge, Sisamouth was forced out of Phnom Penh along with thousands of other residents. During the run-up to the Khmer Rouge takeover his music turned political and he began writing lyrics which criticised the regime as well as the Royal Family for their letting their country down. Sisamouth died in uncertain circumstances in the Killing Fields. Although the majority of the master tapes of his recordings were destroyed by the Khmer Rouge, much of his work has been digitally re-mastered and can still be heard played all over Cambodia today.
Essential Artists for a Southeast Asian Road Trip: My Tam, Vietnam
Pop music in Vietnam is a relatively new concept in comparison to countries such as the US or Britain; with no official national music chart in existence and a greater appreciation for their own traditional music than many other countries have. So it is not a difficult task to identify the successful and popular contemporary artists. One of the most popular female pop stars of all time in Vietnam (in fact she is arguably the most successful female pop artist the country has ever seen) is My Tam (pronounced 'my time'). No trip to Vietnam would be complete without some My Tam classics serenading your ear-drums. With a little bit of background information on this much loved singer and a working knowledge of her best albums, you no doubt will impress a fair few locals on your South-East Asia road trip. So here's what you should know: My Tam was born in Da Nang in 1981, she was a musical child learning ballet for three years before taking up the guitar and the organ. Upon winning numerous awards such as first prize in her city's singing competition and a Gold Award for Beautiful Voice. She was later offered a place at the Military School of Art in Hanoi but had to turn it down due to family problems, she attended the Ho Chi Minh City Conservatory instead and graduated with top marks. She received extensive training whilst studying at HCMC Conservatory which led to her embarking on a career in singing. Her first single was an up-beat dance track and was a huge hit amongst the youth of Vietnam, with many teenage girls dying their hair so as to look like My Tam.  Another major hit from her first album was a track she composed herself and which shared a title with her debut album, 'Love Forever'. She earned respect with this track and with the release of a further two tracks from the album, she quickly became a house-hold name. Her debut album sold over 54, 000 copies, far exceeding My Tam's expectations.
Another track you should familiarise yourself with if you are going to fool anyone into thinking you are a My Tam expert is 'The Student Guitar', a widely popular hit amongst University students and a massive hit at the time, the song became her signature track for years to come. This was her most recognised song until the release of her third and most successful album, 'Yesterday and Now' which featured the hugely popular hit 'Wish', a song which can still be heard in clubs and karaoke bars all over the country today. The album's success sky-rocketed, becoming the biggest selling album in Vietnamese music history, the success spiralled and My Tam went on to play the first ever sold-out stadium concert in Vietnam, and in 2004 became the first Vietnamese singer to appear at the Asia Song Festival in Korea.  My Tam has become such a well-known name in the Vietnamese pop music business that she has been asked to participate in television projects as well as musical ones. She featured in a 37-episode TV show/ musical alongside a number of other respected Vietnamese music stars. She was also musical director of the entire series, composing a number of new songs for it. The soundtrack to the series was put up on My Tam's website after the airing of the first episode, it received 50, 000 hits overnight testifying to the show's success. She also featured as a judge on one of Vietnam's two biggest reality TV singing competitions, Sao Mai Điểm Hẹn. My Tam has also been recognised internationally, ranking 6th in ABC News list of 'Global Pop Sensations You've Never Heard Of'. Keep an eye out for other My Tam merchandise on your trip through Vietnam, as the pop queen has a perfume range entitled 'My Time' as well the massively successful media company, MT Entertainment.
Jenny O'Connor started writing worldmusictravelblog.tumblr.com/ a few months ago. The site is a great resource for world music and world culture.