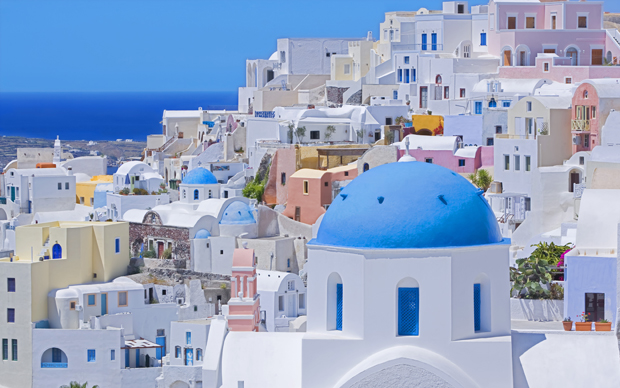 Greece, once the realm of the wealthy and well to-do, used to be a pipe dream for those wanting a taste of Mediterranean majesty. Now, thanks to the recession and Greece's grand job catching up, a trip here is more inexpensive than ever.
But money and cost effectiveness isn't the only reason to reconsider a Grecian jaunt, there's a heap of other reasons too. For lovers it's perfect, for explorers it is too. With what you can save on everything else, you might even consider splurging on one of the many holiday villa rentals available in Greece.
Here GrooveTraveler takes a look at what's shaking around the mainland and its islands.
Shipwrecks
Greece's Ionian Islands illuminate just a couple of reasons why getting to Greece sooner rather than later should be on any travel hedonists agenda. The third largest of them, Zakynthos, has more than just unforgettable markets and a charming town. It has relics from the islands hey-day of yesteryear, specifically that of its naval importance signifying Greece's once-empire conquering past. Shipwrecks, like those found at Zakynthos' Navagio Beach are a particular unmissable sight.
Hidden Caves & Treasures
Elsewhere on Zakynthos there are plenty more intriguing things to discover. Take, for example, the beautiful blue caves reached via boat trip from Navagio Beach. The blue light shining here turns everything underwater blue, including your snazzy swim trunks.
Other treasures include the golden sands at Gerakas, part of the National Marine Park, the 15th century monastery 15 miles from the Zakynthos' villas and peaceful Strada Marina.
Romance Abounds
Whether it's Crete or Santorini, romance is never far from the cards when you visit this part of the world. Whitewashed stone walls, crystal clear blue sea and stunning sunsets, all help make it a special place for people looking to inject a little romance into a trip.
From sunrise at Perissa Beach, to a couples massage at Caldera spa, Santorini can help set the scene. For something a little different consider heading to the 4000 acre vineyard at Santo Wines, there you can sip the Assyritko white variety, a dry speciality synonymous with the region.
Honeymoon Potential
Greece, as we've already mentioned, is definitely one for the lovers. Yet if you're looking to take your relationship to the next level, and have already done the complicated work of tying the knot, you won't find many better places than those like Santorini.
With a getaway like Blue Angel you'll get to enjoy private terrace Jacuzzi soaks at candlelight and a master suite surrounding paradise. Then there's Santorini outside, with its dormant volcano offering exquisite views while its natural hot springs offer another reason to let the warmth of the region soothe your bones.
Pools with Views
Another prime Santorini location is that of The Architect's Villa, best known for its breathtaking infinity pool overlooking the Mediterranean and offering a slice of calm like no other. Here a good book will go far while you lounge away in the sunshine.
Santorini's Periscope Villa, likewise, offers a pool like no other, with panoramic views of the volcano beyond.
—
Greece has plenty of reasons to make it a get-to-quick getaway. Whether you're looking for adventure, romance, world class cuisine, or just an escape from the rat race back home, this Mediterranean gem and its many islands, beaches, and villages probably have what you're looking for.